Sofitel - Iftar OR Ghabga at Layali Al Zallaq Tent
For 18.80 BD Instead of 23.50 BD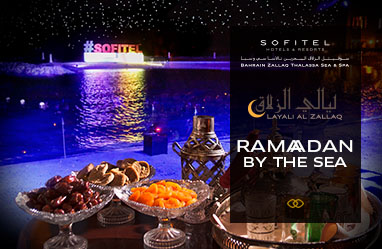 DEAL ORIGINAL PRICE
23.50 BD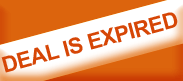 Description
Welcome the Holy Month of Ramadan with an evening imbued with delightful fare and enchanting aromas in Bahrain's most treasured, 2018 award-winning Ramadan tent, Layali Al Zallaq. Enjoy your Iftar right by the beautifully lit Arabian Sea and indulge in a delicious selection of traditional dishes under our glittering stars ceiling, as you escape to a world of total culinary gratification and magical surprises.
The grand Ghabga affair starts from 10:00pm onwards with entrancing live Arabic entertainment along with our delicious buffet, which promise to complete your "très élégant" Layali Al Zallaq Ramadan tent experience.
Your little ones are especially taken care of this season as they get to enjoy their very own camp at the Kids' Villa, creating Ramadan cards, pinwheels and others arts, crafts, puppets making and much more! They can enjoy some fancy face painting and the girls can pamper themselves with nail polishing and enjoyable Arabic dance classes.
Iftar: Sunset – 08:30pm
Ghabga:
Weekdays: 10:00pm – 01:30am
Weekends: 10:00pm – 02:00am
Price:
Iftar: BD23.5net inclusive of Ramadan juices and beverages
Ghabga: BD23.5net food only
BD22.500++ food only (Thu & Fri)
رحب بشهر رمضان المبارك مع أمسية مليئة بالأجواء المفرحة والساحرة في خيمة ليالي الزلاق الحائزة على العديد من الجوائز. إستمتع بوجبة الإفطار بالقرب من البحر العربي المضاء بشكل جميل وتناول أشهى المؤكولات التقليدية تحت سقف نجومنا المتلألىء.
وتبدأ الغبقة من الساعة 10 مساءً وتبدأ معها ليلة من التسلية العربية و إلى جانبها البوفيه اللذيذ والذي سيكمل لكم تجربتكم الرائعة مع خيمة ليالي الزلاق الرمضانية.
ويمكنكم إصطحاب أطفالكم ليستمتعوا بفيلا الأطفال والتي توفر لهم نشاطات عديدة مثل صناعة البطاقات الرمضانية,وصنع الدمى والعديد من الحرف اليدوية الأخرى. يمكنهم أيضاً الإستمتاع بنشاطات اخرى مثل تلوين الوجه و يمكن للفتيات تدليل أنفسهن مع تلوين وتلميع الأظافر ودروس الرقص العربية الممتعة.
الإفطار: غروب الشمس – 8:30 مساءً
غبقة: أيام الأسبوع: 10:00 مساءً – 1:30 صباحاً
أيام عطلة الأسبوع 10:00 مساءً – 2:00 صباحاً
:الأسعار
الإفطار: 23.500 دينار بحريني وتشمل العصائر والمشروبات الرمضانية
الغبقة: 23.500 دينار بحريني وتشمل المؤكولات فقط
Conditions
Coupon validity start date : 2018-05-09
Coupon validity expiration date : 2018-06-30
Temporary offer, only valid on www.togetherinbahrain.com, not valid directly at Sofitel
How it works?

Click on "I BUY"
You can pay:

Online by credit card / debit card
Or ask us to come and collect the cash. Allow 2 working days to come and collect the cash from you.

You will receive your coupon by email and sms
Just show your coupon & enjoy your iftar or ghabga
OR
Watch the steps in

You are advised to bring along a copy of the confirmation email once the ticket(s) is purchased with you at the gate to access the Ramadan Tent.
Prior Reservation Required
Not valid with other promotion or offer
Iftar and Ghabga passes are non-refundable and only applicable during Ramadan 2018.
Entrance to the Layali Al Zallaq Ramadan Tent shall be upon presentation of the ticket by the holder.
Sofitel shall not be responsible for the loss or theft of any ticket once sold.
Sofitel reserves the right to refuse entrance or evict anyone for any reason, at its discretion.
Customers enter the Ramadan Tent location at their own risk. Sofitel, its Ambassadors and representatives are not responsible for any loss, theft or damage to any articles or for any personal injury suffered, how so ever caused.
Programme of event is subject to change without prior notice.
Voucher not valid on weekends (Thursdays, Fridays & Saturdays)
Half Price for kids from 6-11 years old | FREE for children under 5 years old
Questions? Contact us at 34481868 or by e-mail: contact@togetherinbahrain.com
About the deal and the company
The Company
Perched on the pristine beaches of Zallaq overlooking the Arabian Gulf on Bahrains west coast this 5-star luxury hotel in Bahrain boasts the only Thalassa Sea and Spa in the GCC countries.
This spectacular new seawater spa hotel and resort blends French art de vivre with traditional Bahraini styles. 262 luxurious rooms and suites boast balconies and sea views.A stunning ballroom and private island host Magnifique corporate events and weddings.
Spend the day relaxing by the pool indulging in thalassotherapy treatments or soaking up the sun at La Plage Beach Club which offers tennis squash and non-motorized water sports.Pop back for a gourmet meal or light lunch quiet coffee with colleagues afternoon tea and pastries in one of five restaurants and four bars. Children keep busy with a Kids Club program of activities.
Complete the perfect day in Bahrain with a perfect evening whether a gourmet dinner belly dancing show or a stroll by the beach watching the sun set over the ocean.