Sky Blu of LMFAO at Klub360 / Limited Tickets Available
For 30.00 BD Instead of 30.00 BD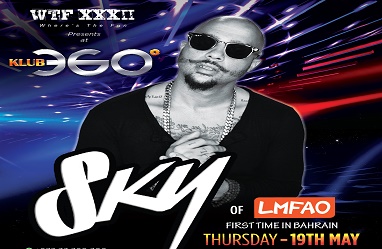 DEAL ORIGINAL PRICE
30.00 BD
DISCOUNT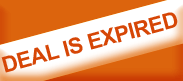 Description
This ticket is valid only for men:
Includes a complimentary beverage of your choice at Waikiki for any other day
--------------------------------------------
"I'm Sexy and I know it"

I doubt you never heard this song before, let us tell you about Sky Blu...


Skyler Austen Gordy, better known by his stage name Sky Blu is an American rapper, singer, record producer, DJ and dancer best known as one half of the musical duo LMFAO, along with his paternal uncle Redfoo. They have two albums together 2009's Party Rock and 2011's Sorry for Party Rocking.

In 2007, Sky Blu teamed up with his uncle Redfoo to form LMFAO. They are known for their hit songs "Party Rock Anthem" and "Sexy and I Know It," which were released in 2011. "Party Rock Anthem" became the most successful song of their entire career, peaking at number one in over ten countries, including France, the UK, the U.S., Canada, New Zealand, Germany, Ireland, and Australia. LMFAO is currently in a hiatus that started in September 2012.
In 2010, Sky Blu created Big Bad University ("the first university for dreamers"), a collective of artists, which is mainly composed of the rapper Shwayze, the ex-Paradiso Girls member Chelsea Korka and the producer, singer and songwriter Mark Rosas.
In 2013, Sky released his two first singles: "Pop Bottles" in January with Mark Rosas, and "Salud"
in April with his manager Reek Rude, Sensato and the actor Wilmer Valderrama. A few months later, on July 4, he released his 9-track first album Rebel Music as a free download.
In January 2014, Sky Blu introduced to the world his alter ego The Party President, with his single "Go On Girl".
On December 14, Sky Blu was invited to the Miss World ceremony to perform his single "We Love Girls" with KG Superstar.


Let 8ky 6blu ROCK your PARTY at Klub 360!
Don't stay out of one more super exclusive event.
Conditions
Coupon validity start date : 2016-05-19
Coupon validity expiration date : 2016-05-19
Entrants: 21+

Tickets are non-refundable and non-upgradeable

Dress code: Smart Casual

This ticket is for men only

Management reserves the right for admission

Includes a complimentary beverage of your choice at Waikiki for any other day

Questions? Contact us at 34481868 / 13104547 or by e-mail: contact@togetherinbahrain.com

How it works?

Click on "BUY" and follow the instructions
You can pay online by credit card or debit card or cash on delivery. Allow 2 working days to come and collect the cash from you.
You will receive your coupons by sms and email (check your spam folder please)
Present the coupon at the gate and enjoy the party !!!

Watch the steps in
About the deal and the company
The Company
Located in Juffair, the 4-star Elite Crystal Hotel offers spacious rooms decorated with modern furniture. It features free WiFi, an outdoor pool and free private parking on site.
Evening entertainment includes the most happening KLUB-360 & Arabic restaurant AWTAR with live entertainment.