Sauvage Steak night at The Domain Hotel
For 12.00 BD Instead of 13.31 BD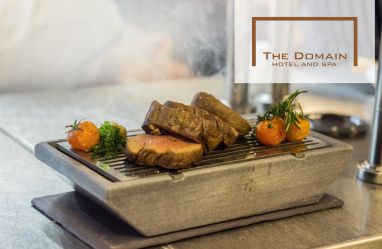 DEAL ORIGINAL PRICE
13.31 BD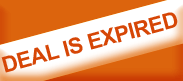 Description
At Le Sauvage, we offer the finest quality home-aged beef and meat cuts in town. Our beef is carefully monitored and dry-aged in-house for a minimum of 20 days to allow the flavour to develop. The natural enzymes in the beef help to optimize the tenderness and texture of the beef, in addition, we aim to offer beef with greater marbling so resulting in a richer, tender and juicy steak.
We bake our own bread in our bakery, using ingredients sourced from round the world. We also create our own flavoured salts, which is one of the signature creations at Le Sauvage.
Personality & Pair-ability
At Le Sauvage, the wine list includes bouquet-style wines that offer a balance of aroma, flavours and texture. The fruit, spice, earth, acid, tannins and alcohol interact with the food, creating an experience whereby both the wine and the food taste better together and the nuances of both are accentuated by their pairing.
Steak Hours
All you can eat Rib Eye, (400 gms)
the Finest Australian Beef Ribeye cooked to perfection served with our signature BBQ sauce.
Every Tuesday, From 6:30 pm to 10:30 pm
BD 12 instead of BD 13.31
without wine
BD 17 instead of BD 21.8
including one glass of Merlot

Level 34, Le Sauvage
Conditions
Coupon validity start date : 2019-02-01
Coupon validity expiration date : 2019-03-31
Exclusive offer only on www.togetherinbahrain.com, not valid at the Hotel directly
Coupon should be bought for a specific date and to be used for that date itself, coupon will be expired if not used for the said date.
Prior reservation required, subject to availability
Dress code is formal (no shorts, no sandals...)
Includes selected beverages
No need to show the coupon, just mention you bought from us and they will check if your name is on the list
Questions? Contact us at 34481868 or by e-mail: contact@togetherinbahrain.com
How it works?

Click on "I BUY" and follow the instructions
You can pay:

Online by credit card / debit card
Or ask us to come and collect the cash

You will receive your voucher by sms and email (check your spam folder please)
Call Hotel for booking, give your name and enjoy the Brunch
About the deal and the company
The Company
The Domain Hotel & Spa is a one-of-a-kind hotel which boasts phenomenal interiors, immaculate views, and relaxing atmospheres -- providing a seamless blend of luxury and comfort. Guests will enjoy cityscape views while staying in one of the many modern suites or while sipping a cocktail at the sky lounge atop the 36th floor. Centrally located in the heart of the business district, this spectacular hotel sits in a wonderful location putting guests in close proximity to the International Airport, National Museum, luxury shopping malls, and Manama's bustling restaurant scene.
Complete with stunning skyline views, contemporary interiors, and lavish amenities, guestrooms at The Domain Hotel & Spa leave guests feeling both relaxed and rejuvenated. With 80 ultra-modern suites and 51 rooms, which range in size from 30 to 260 square meters. The rooms have stunning skyline views of Manama, as well as contemporary interiors and lavish amenities.
The Domain also features a two-floor, cutting-edge urban spa and fitness club, infinity pool and a myriad of highly original restaurants ranging from authentic Japanese, Mediterranean grill to a steakhouse offering the finest quality home-aged beef.