Oriental New Year's Eve Fireworks Extravaganza at Sofitel Bahrain
For 64.00 BD Instead of 80.00 BD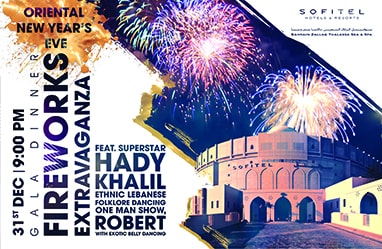 DEAL ORIGINAL PRICE
80.00 BD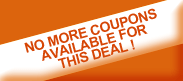 Description
Brace yourselves for Bahrain's most unique and dazzling Oriental New Year's Eve celebrations featuring live performances with a grand and the only one of its kind, international fireworks display by the sea at midnight!

The line-up of exotic events until the end of the year will keep you immersed in a wonderland of excitement and fun, as we kick-off the show in the majestic Al Nakheel Ballroom from 9:00pm with enchanting live performances by Robert, One Man Show, complemented with a mesmerizing belly dancing extravaganza. A truly extraordinary ethnic Lebanese Folklore dance routine follows to spellbind everyone until the clock strikes close to midnight.
Join in with the eintire hotel, as we all countdown to New Year 2019 with the Kingdom's most spectacular fireworks spectacle by the sea accompanied with DJ Dr, Sal and unforgottably Magnifique momemnts
The festivities are not over yet, as the Lebanese superstar, Hady Khalil, takes center stage with a sensational live concert, featuring lavish gala dinner and the finest selection of international culinary delights. The electrifying shows and celebrations go on well into the early hours with Dabke, an Arab folk dance native to the Levant and plenty of live entertainments to keep you grooving!

Special arrangements for children are in place in our separate Kids Corner with professional minders to ensure your New Year's Eve celebrations are without any worry! Sleeping corner, dancing activities, movie and entertainment, all organised along with a dedicated buffet to keep the little ones entertained and happy. Price – BD10net per child.

Tickets start from BD80 net per person.

For reservations and more details, please call +973 39 11 71 12, +973 36 22 29 27 or +973 17 63 63 63.

حفلة رأس السنة الرائعة مع عرض الألعاب النارية المذهل
الأثنين, 31 ديسمبر 2018
قاعة النخيل
تفتح الأبواب في خلال الساعة 9 مساءً

استعدوا لأفخم حفل في ليلة رأس السنة! انضموا إلينا في حفل موسيقي رائع والذي سيتم إستضافته في قاعة النخيل في خلال الساعة 9 مساءً مع العديد من العروض الترفيهية والتي تضم فقرات رقص لبنانية شعبية وفقرات غنائية من قبل فنان بشوات الموهوب روبرت مع عرض رقص شرقي.
ثم رحبوا بالسنة الجديدة بالقرب من البحر مع عرض الألعاب النارية الأجمل في مملكة البحرين واستمتعوا بأروع الأغاني المقدمة من قبل دي جيه سال!
الإحتفالات الحماسية ستستمر مع وصول الفنان هادي خليل الى منصة قاعتنا في حفلة حية لاتنسى مع عشاء فخم والذي سيوفر لكم فرصة الإستمتاع بأشهى الأكلات العالمية. ثم استمتعوا بعروض رائعة من بلاد الشام مع رقصة الدبكة في ختام هذه الليلة الجميلة في فندق سوفيتل البحرين.
التذاكر تبدأ من 80 دينار بحريني للشخص.

أطفالكم يمكنهم الإستمتاع بالعديد من الأنشطة الرائعة في ليلة رأس السنة مع إشراف تام من قبل طاقم العمل في فندق سوفيتل البحرين. هذه الأنشطة تتضمن نشاط الرقص وزاوية للأفلام والألعاب وللنوم مع بوفيه خاص للأطفال بسعر 10 دينار بحريني للطفل.

للحجز وللحصول على المزيد من المعلومات، يرجى الإتصال ب 12 71 11 39
او 27 29 22 36
او 63 63 63 17

Conditions
Coupon validity start date : 2018-12-31
Coupon validity expiration date : 2018-12-31
Timing: Monday, 31st Dec 2018, 9pm onwards
Al Nakheel Ballroom
Including Gala Dinner buffet and selected beverages
Entrance: 18+
Tickets are non-refundable.
Entrance to the event shall be upon presentation of the ticket by the holder.
Sofitel shall not be responsible for the loss or theft of any ticket once sold.
Sofitel reserves the right to refuse entrance or evict anyone for any reasonat its discretion.
Customers enter the event location at their own risk. Sofitel, its employees and representatives are not responsible for any loss, theft or damage to any articles or for any personal injury suffered, how so ever caused.
Programme of event is subject to change without prior notice.
Minimum purchase of 2 tickets is required to assign tables accordingly
Sofitel Bahrain Zallaq Thalassa Sea & Spa reserves the right to allocate the tables
Once tickets are purchased, guest is required to call the hotel to provide their contact details and confirm the reference number of the purchased ticket to know the total number of guests on a table.

Questions? Contact us at 34481868 or by e-mail: contact@togetherinbahrain.com
How it works?
Click on "I BUY" and follow the instructions
You can pay:
Online by credit card / debit card
Come and visit us at our offices in Juffair (Office 1716, Business Bay, next to Juffair petrol station) during our opening hours every day from 9am to 5pm. Closed on public holidays
Ask us to come and collect the cash. Our delivery agent will come within 2 days (option is not valid when coupons expiry date is lower than 2 days)
You will receive your coupon by sms and email (check your spam folder please)
Show the coupon at door and enjoy the Party !!!
About the deal and the company
The Company
Perched on the pristine beaches of Zallaq overlooking the Arabian Gulf on Bahrains west coast this 5-star luxury hotel in Bahrain boasts the only Thalassa Sea and Spa in the GCC countries.
This spectacular new seawater spa hotel and resort blends French art de vivre with traditional Bahraini styles. 262 luxurious rooms and suites boast balconies and sea views.A stunning ballroom and private island host Magnifique corporate events and weddings.
Spend the day relaxing by the pool indulging in thalassotherapy treatments or soaking up the sun at La Plage Beach Club which offers tennis squash and non-motorized water sports.Pop back for a gourmet meal or light lunch quiet coffee with colleagues afternoon tea and pastries in one of five restaurants and four bars. Children keep busy with a Kids Club program of activities.
Complete the perfect day in Bahrain with a perfect evening whether a gourmet dinner belly dancing show or a stroll by the beach watching the sun set over the ocean.