Online Microsoft Excel 2013 Course
For 5.00 BD Instead of 46.00 BD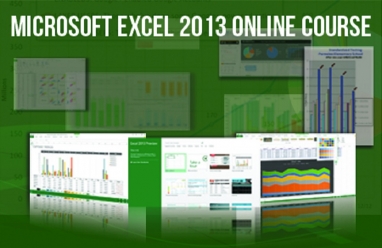 Description
Options:
Beginner: BD 5 instead of BD 46
Intermediate: BD 7 instead of BD 61
Beginner & Intermediate: BD 9 instead of BD 107
HIGHLIGHTS
Microsoft Excel 2013 Beginner: create charts, learn data entry, and build organized workbooks, explore special formatting, and more.

Microsoft Excel 2013 Intermediate: using formulas in depth, working with data table charts, creating pivot tables, looking at logical functions, optimizing your data, using data linking, presenting and reporting, filtering data in your worksheet and protection techniques.

Includes online exam and certification

Become proficient in Microsoft Excel 2013

Fun, interactive courses that can be customized to suit your needs

A great way to enhance your employability and/or improve skills in your career field

Complete the courses at your convenience for 1year

12 months unlimited access to the online training material allows self-paced learning from the comfort of your own home

Project based learning approach for accelerated learning and practice

Practice files provided

Monitor your progress on a user friendly interface

Accessible on any device

Software not needed for completion of training course

Free upgrade on purchased course

Simply click on each product's thumbnail at the Products page for courses detail such as table of contents, free videos, etc.

For Excel Beginner, subtitles in Arabic
HOW IT WORKS
Visit http://www.TeacherBird.com.

Sign up and log into your profile.

Go to upper part of the page and click on Redeem Voucher.

Fill in the following details:

Voucher issuer (TogetherBahrain)

Country of issuer (Bahrain)

Voucher Code

Choose product family (Office family)

Selected course(s)

Teacher Bird will take 1 working day to assign the selected course.

You will be able to start the course approximately 1 working days after registration date.
Conditions
Coupon validity start date : 2019-11-01
Coupon validity expiration date : 2019-11-30
Exclusive offer only on www.togetherinbahrain.com
How it works?

Click on "I BUY"

You can pay:

Online by credit card / debit card

Ask us to come and collect the cash. Our delivery agent will come within 2 days (option is not valid when coupons expiry date is lower than 2 days)

OR come and visit us at our offices in Juffair (Office 1716, Business Bay, next to Juffair petrol station) during our opening hours from 8.30am to 5.30pm every day (except Friday)

You will receive your coupon by email and sms

Visit TeacherBird.com

, follow the instructions mentioned on description and enjoy the complete 1 year course !!!

Watch the steps in
Questions? Contact us at 34481868 or by e-mail: contact@togetherinbahrain.com
About the deal and the company
The Company
Mission
Our mission is to push the boundaries of e-learning and improve the life of our clients by removing the barriers to education. We'd like nothing better than to hear about our students being promoted, or more successful after taking one of our courses, we're sure they're that good!
Description
"TeacherBird.Com" is an e-learning Web Portal, which provides high-quality Video Training Lessons for People all around the world to improve their Software skills