Microsoft Excel - 300 Module Masterclass!
For 8.55 BD Instead of 45.00 BD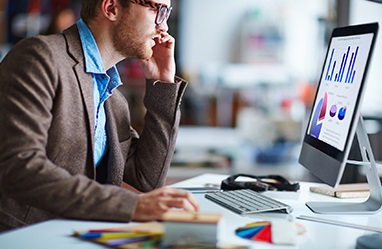 Description
This course will help you to turn Excel into a personal business intelligence tool: learn creative interactive charts, super dashboards and formulas
COURSE HIGHLIGHTS
Over 15 hours of lecture content across 300 modules!

Exercises and quizzes available to monitor progress

Covering a range of topics from printing on Excel to complex formulas

Learn button functions & how to use for presentations

Learn to use Excel for business & professional purposes

Covers 5 topics: Excel Hacks/Tips, Advanced Charts, Power Pivot, Dashboards, and Macros
ENROL TO EARN YOUR CERTIFICATE
Enrol and become certified in a new skill

Share your new skill with employers, friends and colleagues

Build a porfolio of course projects
More Info
Ever wanted the ground to swallow you up when your boss asks, 'You know how to use Microsoft Excel, right?' - Stay above ground and never fear, a solution is here!
Computing expert, Andreas Exadaktylos, will help you to turn Excel into a personal business intelligence tool to create interactive charts, super dashboards, both easy & complex formulas and even how to print from partial & full workbooks. In addition to these fundamental skills, you will learn to format, use for data analysis and manage worksheets using real world examples and step-by-step instructions.
For use in all types of industries, do not pass up the chance to learn this key programme today. Broken down into small tasks, you will learn from an instructor with over 16 years experience in the field. Complete exercises and quizzes as you go to be clued up on your individual progress.
By the course conclusion, there is no doubt that you will be able to answer the opening question confidently and proclaim yourself to be an Excel-lent user!
Curriculum
My Top Ten (10) Hacks and Tips
Excel Interface
Workbooks and Worksheets
Formatting
Organising and Working with Data
Numbers, Dates and Formulas
Tables and Pivot Tables
Charts
Creating, Resizing and Modifying Charts
Formatting & Customising Charts
Updating & Printing Charts
Working With Text, Pictures, Shapes and Effects
Basic Chart Types
Master Excel Charts
Get Started With Power Pivot and Power View
Calculated Fields - Columns & Dax Formula Language
KPI, Key Metrics and Design Your Dashboard > PART:1
Design Your Dashboard > PART:2
Create an Amazing Sales Map With Power View
Completing Your Dashboard
Analysing a Dashboard With Functions
Beginners: Introduction to Charts
Beginners: Basic Build-in Chart Types
Formatting & Customising Charts
Graphics for Charts & Dashboards
Dashboards Components: Sparklines - Mini Charts
Advanced Charts & Dashboard Components
Interactive Charts & Dashboards Controls
Analysing a Dashboard With Pivot Tables & Charts
Dashboards: Putting it All Together
The Basics of Macros
Enter the world of VBA
Get in-depth with Macros
How to create your First Piece of Code
Supercharge Macros and VBA with Loops
Ready-to-use Excel Macros
Quiz
Conditions
Coupon validity start date : 2020-04-01
Coupon validity expiration date : 2020-10-31
The course is personal and non-transferable and can only be used once. But you can buy many as gifts.
To confirm registration fill out our online form:
Click here

How it works:
1) After purchasing the coupon, Please allow the barcode to activate in their website (it may take 2 to 3 days)
2) Click on the link above for registration
3) Enter the barcode received on coupon to activate your course
4) Start with course
Questions? Contact us at 34481868 or by e-mail: contact@togetherinbahrain.com
About the deal and the company
The Company
OfCourse Learning is one of the UK's leading e-learning providers, with over 800 expert-led online courses. Their course categories range from well-being and health to personal and career development. Their courses contain numerous video-lectures, downloadable written materials and engaging assessments. Whether you want to learn sign language, become an excel whizz, or need the latest stress-busting techniques, OfCourse has something for everyone.
Why choose us
There are several reasons why students are choosing OfCourse to learn a new skill.
- All courses are taught by verified experts
- Students enjoy 24/7 access to their courses
- Courses can be accessed on any device
- Students get lifetime access to their courses so they can work at their own pace
- On completion, students receive a course certificate from a recognised educational institution
- Become a part of a global learning community where you can talk with teachers and students about the course
- Course enrollment deems you eligible to purchase a NUS Student Discount Card from NUS Extra - discounts on 1000's of retailers and services