Learn SPANISH from native speakers
For 6.00 BD Instead of 32.80 BD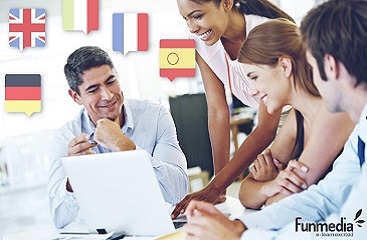 Description
Spanish:
Spanish123 is a complete interactive and multimedia online Spanish textbook. It has been designed to meet the needs of learners at different levels, hence the division into 4 parts addressed to teenagers and adults who are not fluent in Spanish yet or would like to improve their skills.
Spanish123 contains 4 levels addressed to beginners and intermediate students. Each level contains 22 lessons composed of multimedia activities, dialogues, films, photolessons and songs.
There is more than 450 interactive exercises in the course, which means more than 320 hours of study!Answers to exercises are checked automatically. You can practice grammar, vocabulary, listening comprehension and even pronunciation in this way.
HOW IT WORKS
Buy the Coupon from www.togetherinbahrain.com
Email

kupon@fun-media.com

with the title ' Learn SPANISH from native speakers ' Provide the following information: Name, Contact details,Emailaddress Course option, voucher code, Attach your voucher You will receive a confirmation email with one login activation code per person within 48 hrs.
Visit

spanishcourse123.com

Click on the "activate a coupon".
Fill in the following details
Enquiries:

kontakt@fun-media.com
The deal
3 months
Access to Online course for 6(BHD) instead of 32.8 (BHD)
6 months
Access to Online course for 12(BHD) instead of 65.5 (BHD)
1Year
Access to Online course for 18(BHD) instead of 131(BHD)
Conditions
Coupon validity start date : 2021-03-01
Coupon validity expiration date : 2021-06-30
Exclusive offer only on www.togetherinbahrain.com
How it works?

Click on "I BUY"
You can pay:

Online by credit card / debit card
Ask us to come and collect the cash. Allow 2 working daysto come and collect the cash from you. Our delivery agent will come within 2 days
OR Come and visit us at our offices in Juffair (Office 1716, Business Bay, next to Juffair petrol station) during our opening hours from 8.30am to 11pm every day
You will receive your coupon by email and sms
Watch the steps in
Questions? Contact us at 34481868/13104547 or by e-mail: contact@togetherinbahrain.com
Enquiries:

kontakt@fun-media.com
About the deal and the company
The Company
We're Funmedia, company based in Poland, and we are leaders of e-learning. We have created different language and specialised online courses, We are present on market in over 40 countries, providing online courses to over 600 000 users all around the world, including most of the countries in Europe, USA, South America and Asia. Our online courses are complex, include photos, videos, interactive games and voice exercises. Our products contain language courses like: english, german, italian, spanish and french courses, buissness english course, fast typing course, fast reading course, and many more. It would be a pleasure to start cooperation with you to provide our e-learning experience to your customers. We already cooperate with 172 different partners in 43 countries. Today,many of us realise that learning new languages is not only necessary, but also big fun and it gave many opportunities in life, not only at work or school. That's why we would like to offer your customers possibility to have fun while learning with Funmedia online courses. It may be great present for many of your customers!