Halloween Beach Party at Sofitel
For 31.20 BD Instead of 39.00 BD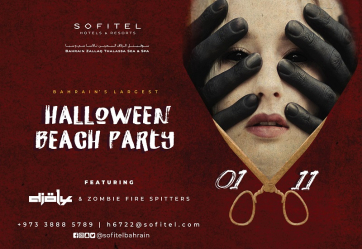 DEAL ORIGINAL PRICE
39.00 BD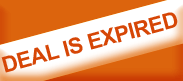 Description
Darkness falls across the land as Bahrain's largest and most thrilling Annual Halloween Beach Party makes yet another frightening return on Friday. 1st November at Sofitel Bahrain!

Prepare yourselves as you enter through our haunted beach-side cemetery for a spine chilling night full of non-stop entertainments featuring a full-fledged special tribute with mob dance performances to the late King of Pop's biggest hit "Thriller" and the return of the talented top 100 World DJ, DJane DJoly accompanied by hypnotizing Zombie fire spitting and fire dancing shows!


Best dressed costume wins big, dress to impress.

Feast on a variety of delicious dishes and thirst-quenching beverages until the midnight hour, followed by a bewitching After Party at Tapas, to keep the spooky vibes rolling by the moonlit sea.

Kids Club will feature its very own spooktacular fun-filled program for all the little ghouls and include free access for all Halloween Beach Party guests' kids.

Tickets:
- BD39net per person inclusive of buffet and unlimited selected beverages from 06:00PM to 09:00PM. OR
- BD39net per person inclusive of unlimited buffet and five selected beverages vouchers (from 09:00PM onwards).

Time: 06:00PM to 12:00AM


حفلة الهالووين ستعود مجدداً بتاريخ 1 نوفمبر في فندق سوفيتل البحرين! استعدوا لليلة مشوقة مليئة بالعروض الموسيقية المقدمة من دي جي جولي مع عرض رقصة ثريلر وعروض نفث النار. تناولوا أشهى الأكلات والمشروبات في خلال هذه الليلة وانضموا إلينا في تباس بعد منتصف الليل للإستمتاع بحدث مابعد الحفلة مع أصدقائكم. للحجز وللحصول على المزيد من المعلومات، يرجى الإتصال ب38885789.

الأسعار:
-39 دينار بحريني للشخص شامل البوفيه ومشروبات مختارة غير محدودة من الساعة 6 مساءً الى 9 مساءً
-39 دينار بحريني للشخص شامل 5 مشروبات مختارة

الوقت:
- 6 مساءً الى 12 منتصف الليل
Conditions
Coupon validity start date : 2019-11-01
Coupon validity expiration date : 2019-11-01
Timing: Friday, 1st Nov 2019, 06:00 pm onwards
Entrance: 18+
Tickets are non-refundable.
Entrance to the event shall be upon presentation of the ticket by the holder.
Sofitel shall not be responsible for the loss or theft of any ticket once sold.
Sofitel reserves the right to refuse entrance or evict anyone for any reason at its discretion.
Customers enter the event location at their own risk. Sofitel, its employees and representatives are not responsible for any loss, theft or damage to any articles or for any personal injury suffered, how so ever caused.
Programme of event is subject to change without prior notice.
Sofitel Bahrain Zallaq Thalassa Sea & Spa reserves the right to allocate the tables.
How it works?
Click on "I BUY" and follow the instructions You can pay:
Online by credit card / debit card
Come and visit us at our offices in Juffair (Office 1716, Business Bay, next to Juffair petrol station) during our opening hours every day from 9am to 5pm. Closed on public holidays
Ask us to come and collect the cash. Our delivery agent will come within 2 days (option is not valid when coupons expiry date is lower than 2 days)
You will receive your coupon by sms and email (check your spam folder please) Show the coupon at door and enjoy the show !!! OR Watch the steps in
Questions? Contact us at 34481868 or by e-mail: contact@togetherinbahrain.com
About the deal and the company
The Company
Perched on the pristine beaches of Zallaq overlooking the Arabian Gulf on Bahrains west coast this 5-star luxury hotel in Bahrain boasts the only Thalassa Sea and Spa in the GCC countries.
This spectacular new seawater spa hotel and resort blends French art de vivre with traditional Bahraini styles. 262 luxurious rooms and suites boast balconies and sea views.A stunning ballroom and private island host Magnifique corporate events and weddings.
Spend the day relaxing by the pool indulging in thalassotherapy treatments or soaking up the sun at La Plage Beach Club which offers tennis squash and non-motorized water sports.Pop back for a gourmet meal or light lunch quiet coffee with colleagues afternoon tea and pastries in one of five restaurants and four bars. Children keep busy with a Kids Club program of activities.
Complete the perfect day in Bahrain with a perfect evening whether a gourmet dinner belly dancing show or a stroll by the beach watching the sun set over the ocean.