Delivery Voucher for Guzel Turkish Restaurant
For 8.00 BD Instead of 10.00 BD
DEAL ORIGINAL PRICE
10.00 BD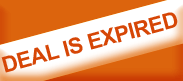 Description
Avail the discount on the bill of BD 10 and enjoy the food at home / office or anywhere you like to get it delivered ....
Conditions
Coupon validity start date : 2016-05-01
Coupon validity expiration date : 2016-05-31
Exclusive offer only on www.togetherinbahrain.com or full price to be paid
Only valid on delivery
Print out coupons should be presented to delivery man to get the discount
Questions? Contact us at 34481868 or by e-mail: contact@togetherinbahrain.com

How it works?

Click on "I BUY" and follow the instructions
You can pay:

Online by credit card / debit card
Or ask us to come and collect the cash. Allow 2 working daysto come and collect the cash from you.

You will receive your coupon by sms and email (check your spam folder please)
Call the restaurant, order and present the coupon upon delivery !!!

OR
Watch the steps in
About the deal and the company
The Company
From ottoman History and the dishes of Sultans we introduce Guzel Restaurant as a piece of Turkish History.. From Dolma Bahja where the best cookers were competing to prepare the most delicious dishes for the Sultan and his Guests we deliver bring appetizers and tasty grills.. From Iskender Palace in Bursa we bring " Iskender Kabab".. From " Dar Al Dhiyafah" where the parties of Sultan Sulaiman Al Qanuni were held we deliver the best drinks.. And from Taksim we bring Turkish sweets with tea and coffee.. In Guzel.. Turkey visits you..