British Sign Language: Level 1 & 2
For 8.60 BD Instead of 44.72 BD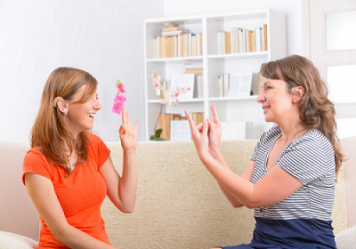 Description
British Sign Language is an official language in the United Kingdom. Use BSL to expand your signing knowledge with new phrases and grammar rules!
COURSE HIGHLIGHTS
47 modules across 4 hours of content, plus downloadable scripts.

Uncover the secrets of British Sign Language

(Level 1) Learn about meeting people, age, time, money, weather, transport, directions, and hobbies

(Level 2) Learn about everyday communication i.e. Eating and drinking, Shopping and Holidays and much more.

Learn about the 5 most common grammar rules of BSL - Negation, Plurality, Question Structure, Marking Time & Quality
ENROL TO EARN YOUR CERTIFICATE
Enrol and become certified in a new skill
Share your new skill with employers, friends and colleagues
Build a porfolio of course projects
More Info
British Sign Language is the official sign language used in the United Kingdom. There are thousands of people who are predominantly communicating with this form of language. Why not expand a basic knowledge of British Sign Language and progress towards confident signing with this course covering level 1-2 material.
This course is ideal for beginners and those that have a small amount of experience with sign language. You will learn within the topic areas of: meeting people, age, time, money, weather, transport, directions, hobbies, and that is just level 1! Within level 2 you learn about everyday communication, for example, Eating and drinking, Shopping and Holidays and much more.
This course is accompanied by full video demonstration and PDF scripts, therefore it will be easy to keep track of how much you are learning.
Do you have friends, family, or children that are deaf? Are you intrigued at the prospect of learning another language? Or do you wish to take up a career where communication is key? If the answer to any of these questions is yes, then this course is for you.
Curriculum
Introduction - Basic Sign Language
(Level 1) Meeting People, At Home, People and Animals
(Level 1) Using Numbers – Age, Time, Money and Calendar
(Level 1) Weather, Transport and Directions
(Level 1) Hobbies/Activities and Occupation
(Level 1) Refreshments
(Level 2) About You and Everyday Conversation
(Level 2) Eating and Drinking
(Level 2) Shopping and Spending
(Level 2) Travel and Holidays
(Level 2) The Linguistics of BSL
Conditions
Coupon validity start date : 2020-08-01
Coupon validity expiration date : 2020-10-31
The course is personal and non-transferable and can only be used once. But you can buy many as gifts.
To confirm registration fill out our online form:
Click here

How it works:
1) After purchasing the coupon, Please allow the barcode to activate in their website (it may take 2 to 3 days)
2) Click on the link above for registration
3) Enter the barcode received on coupon to activate your course
4) Start with course
Questions? Contact us at 34481868 or by e-mail: contact@togetherinbahrain.com
About the deal and the company
The Company
OfCourse Learning is one of the UK's leading e-learning providers, with over 800 expert-led online courses. Their course categories range from well-being and health to personal and career development. Their courses contain numerous video-lectures, downloadable written materials and engaging assessments. Whether you want to learn sign language, become an excel whizz, or need the latest stress-busting techniques, OfCourse has something for everyone.
Why choose us
There are several reasons why students are choosing OfCourse to learn a new skill.
- All courses are taught by verified experts
- Students enjoy 24/7 access to their courses
- Courses can be accessed on any device
- Students get lifetime access to their courses so they can work at their own pace
- On completion, students receive a course certificate from a recognised educational institution
- Become a part of a global learning community where you can talk with teachers and students about the course
- Course enrollment deems you eligible to purchase a NUS Student Discount Card from NUS Extra - discounts on 1000's of retailers and services