Brave Combat Federation
For 6.00 BD Instead of 10.00 BD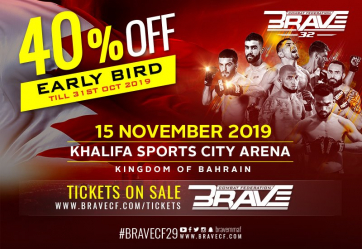 DEAL ORIGINAL PRICE
10.00 BD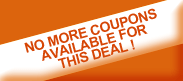 Description
Bahrain's own BRAVE Combat Federation returns to the Kingdom with the biggest sports event of the year, a night of entertainment, world-class-level fights, and excitement, and, this time around, with a twist: the most expensive belt in the history of sports being awarded to the winner of the KHK World Title. Don't miss BRAVE 29, headlining the 2019 BRAVE International Combat Week.
Seating map/ Color coded attached
Ticket pricing and categories:
Premium - 9 BD instead of 15 BD
Standard - 6 BD instead of 10 BD
Friday, 15 November 2019 from 4:30pm - 11pm
Conditions
Coupon validity start date : 2019-11-15
Coupon validity expiration date : 2019-11-15
When: Friday, 15 November
Time: 4:30pm until 11pm

Tickets are non-refundable and non-upgradeable

Questions? Contact us at 34481868 or by e-mail: contact@togetherinbahrain.com
How it works?
Click on "BUY" and follow the instructions
You can pay online by credit card or debit card or cash on delivery. Allow 2 working days to come and collect the cash from you.
You will receive your coupons by sms and email (check your spam folder please)
Watch the steps in
About the deal and the company
The Company
Dallah Promotions is a fully operational Advertising and Promotions agency that has been interact-ing with consumers for more than 9 years on behalf of the biggest brands in the industry. From planning to execution, we are creative , detail-oriented and steadfast in ensuring on-time quality services. We will competently manage all of your event logistics. Moreover, we offer management services, programming & production, entertainment & special event coordination, high-quality activities, event promotions, as well as, Landscaping and Interior Design construction for restaurants, office and homes. We promise our customers, clients & the community that we are passionate, honest, ethical and true to creating the best solutions. Our main goal and commitment is complete customer satisfaction as we believe in our Moto "Impossible is Our Mission"
Mission Statement
Here at Dallah Promotions we pride ourselves on being able to provide quality services regardless of the circumstance. We aim to maintain quality while remaining flexible to our client's needs.
Grapic Design & Printing
Using our creative skills, we can design & create smooth, perceptibly appealing logos. We create unique marketing materials that will help you & your business make an Extra-ordinary impact.
We provide marvelous branding, advertisement & marketing collaterals.
• Small quantities. Example: "A3 poster A2 posters, etc"
• Personalized. Example: "Greeting, wedding, special occasion, etc"
• Production of all types of stands, banners and vinyl stickers
• Media buyers. Example: "lamp post, Billboards, etc"
• Radio ads, etc
Looking towards superb brandings, you are on a perfect spot. We add values to your products by providing diversified printing.
Event Management
Dallah Promotions provides one of the most unique and articulate event management which includes creating, developing and managing on a large scale of events such as:
Festivals, Conferences, Ceremonies, Formal Parties, Concerts and Conventions. Aswell as we provide you with the Marketing Tools, Sustainability, Event Technology and Event Production. We can also obtain Approvals from Ministries and Outlets.
Media & Public Relations
We can help promote your business to elevate & maintain your profile. With serveral years of experience in the media industry, and a well-built team, we have wide media contacts.
Our staff are our greatest asset as they represent your brand. Dallah Promotions provides experienced promotional staff. Hostesses and Models for all your activities including sampling of FMCG product or service and all types of Events and Fashion shows. Dallah Promotions database allows staff to be chosen by experience and profile Training and briefing sessions can take place before the activity if required.
Ideally we prefer to provide the full Dallah Promotions service so we can control all elements of the activity.
We also provide:
• Professional Photography
• DJ & MC
• Videography
• Professional Models
• Promoters
Equipment Rental
We Provide a wide range of event accessories and furniture (Staging, sound & lights, chairs, tables, tent, etc.) to suit your leisure & corporate requirements with out any hassle.
Give Aways
For every occasion, there's a promotional giveaway gift to market your message. Our everyday giveaways are quick grabs at conferences, job fairs, facility events and more.