Saudrain& Vibes present: Trancephoria
For 10.00 BD Instead of 15.00 BD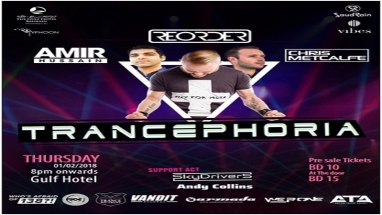 DEAL ORIGINAL PRICE
15.00 BD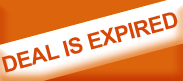 Description
SaudRain would like to invite you to its OFFICIAL LAUNCH EVENT.......
A night that will guarantee to put a smile on your faces, with an excellent atmosphere, true Trance vibe and the friendliest crowd in town. Buckle up and join us for a euphoric and uplifting epic journey !
We are extremely excited and honored to be welcoming
Tibor Tomecko, aka ReOrderSlovakia, is undoubtedly one of the most promising trance producers in our scene today. He regularly performs alongside the world's DJ elite, his productions are widely supported and he is no stranger to fans of ASOT: 'I'm sorry for singing on air, but this track has been stuck in my head for so long" commented Armin Van Buuren while playing 'Folding The Universe' on A State Of Trance as Tune Of The Week.
number 1 spot on Beatport and was tipped for 'Tune of the Year' by Armin.
Aly & Fila chose it for their "WONDER OF THE YEAR " the best track of 2013.
excellent performance on ASOT650 in Utrecht and several ASOT .
1 spot on Czech Dance Radio with the release of 'White Sands of Ibiza', which remained in the top 10 for over 13 weeks.
ASOT Tune Of The Week award for his "138 Edit" of Airborn - AirBURN.

Chris Metcalfe
Theres little that can't be said about UK's globe-trotting DJ Chris Metcalfe, since bursting on the scene he quickly became one of the most exciting and talked about names. From being resident at the UK's biggest Club 'Club M Tall Trees' from a young age he quickly began to learn his trade supporting the worlds biggest DJ's at the massive 7000 capacity super Club on a weekly basis. In 2010 came the big break when his debut track made him a global name, it got personally signed by none other than the world's no.1 DJ Armin van Buuren to his Armada record label, It got played by every major DJ you can think of, then made it to #1 on the download sites as well as featuring on many albums worldwide, Chris was later tipped on BBC Radio 1 to be the next big thing on Trance legend 'Judge Jules' show, this was the start of what was only going to be an exciting career.
Amir Hussain
Hailing from Bahrain, a country with no Electronic Music or Trance roots, Amir has fallen in love with electronic music back in 2007 for the first time having been massive alternative rock fan beforehand and has not looked back ever since.

By around end of 2007 & still in high school Amir had only just discovered Trance and was keenly interested in the genre. Early influences include Tiesto& Armin van Buuren. Tiesto is the earliest influence on Amir's musical taste in electronic music and had paved the way for him to look into the genre more and find other artists. Artists such as Sean Tyas of which who's track ''Lift'' simply made Amir quit anything that wasn't Trance or electronic for the matter and never look back.
Supporting:
Skydrivers:
Andy Collins UK
Genre
Trance, Psytrance, Techno

Location: At The Gulf Hotel Bahrain Convention & Spa at Typhoon Bar and Lounge

Online &Pre Sale Tickets : BD 10
At the Door: BD 15

Doors Open at 8pm

We can't wait to See YOU and to celebrate our Trance Party with The Best Crowd on the Island!!
Conditions
Coupon validity start date : 2018-02-01
Coupon validity expiration date : 2018-02-01
Timing: Thursday, 1st Feb 2018

Tickets: BD 10 instead of BD 15

Entrance upon management discretion

Questions? Contact us at 34481868 or by e-mail: contact@togetherinbahrain.com
How it works?
Click on "I BUY" and follow the instructions
You can pay:
Online by credit card / debit card
Come and visit us at our offices in Juffair (Office 1716, Business Bay, next to Juffair petrol station) during our opening hours every day from 9am to 5pm. Closed on public holidays
Ask us to come and collect the cash. Our delivery agent will come within 2 days (option is not valid when coupons expiry date is lower than 2 days)
You will receive your coupon by sms and email (check your spam folder please)
Show the coupon at door and enjoy the party !!!
About the deal and the company
The Company
SudRain is a full-service event planning company that provides complete planning, consulting, and supervision for both corporate and social events. SudRain provides its clients with spectacular events through creativity and uniqueness based on individual tastes and preferences. Whether the event is corporate or social, SudRain incorporates themes, design layouts, event formats, and décor with the ultimate goal of making your design-specific event a most elegant, unique, and memorable experience.