Mazak by Alto - Downtown Rotana
For 7.50 BD Instead of 10.00 BD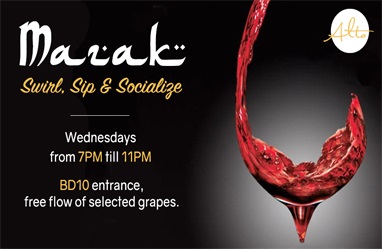 DEAL ORIGINAL PRICE
10.00 BD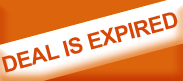 Description
Alto's Wednesdays summer evenings just got more exciting !

.. Swirl, Sip & Socialize ..
Join us every Wednesday for "Mazak' " by
Alto, our trendy grape tasting evening.
Mazak' is an Arabic originated word meaning :
"a gathering at which people sample, compare, and evaluate different wines, or
other drinks or food."
Indulging with grapes from France, Spain, Chile and USA.
-- -- -- -- -- -- -- -- -- -- -- -- -- -- -- --
Timings: 7PM till 11PM
Entrance is BD 7.5 instead of BD 10 for all, with a free flow of selected grapes.
-- -- -- -- -- -- -- -- -- -- -- -- -- -- -- -- -
Dress code: no shorts, no slippers!
Conditions
Coupon validity start date : 2017-08-28
Coupon validity expiration date : 2017-09-30
Temporary offer, only valid on www.togetherinbahrain.com, not valid directly at Alto
How it works?

Click on "I BUY"
You can pay:

Online by credit card / debit card
Or ask us to come and collect the cash. Allow 2 working days to come and collect the cash from you.

You will receive your coupon by email and sms
Just show your coupon at Alto & enjoy
OR
Watch the steps in

24 hours Prior Reservation Required
Entance: 18+
Dress code: no shorts, no slippers!
Questions? Contact us at 34481868 or by e-mail: contact@togetherinbahrain.com
About the deal and the company
The Company
The term Alto, meaning "high" in Italian (Latin: altus), perfectly represents the essence of our Arabian-inspired lounge and bar, located on the 25th floor of Downtown Rotana.
High above the capital, Alto offers stunning views of Manama's city lights, with our very name embodying the elevated experience we strive to offer our guests. With a history steeped in Arabianhospitality, every aspect of a visit to Alto presents the most refined and welcoming ambience. From the glamourous interiors and the eclectic fusion music inspired by regional and international tunes, to the carefully selected, meticulously prepared Arabian inspired food and crafted cocktails, at Alto, we always take it to the next level.
Concept and experience
Flavoured with tradition and a culture of generous hospitality, Alto brings a sophisticated, contemporary twist to regional values. Reflecting the modern Middle East, Alto fuses the Arabic ethos of cherishing food and the deep-rooted commitment to welcoming and honouring guests.
At Alto, the culinary nomad will find a home. The lounge's mesmerising and warm interior and its impressive outdoor space offer a welcoming haven in the heart of the capital. The venue aims to offer an atmosphere of relaxed and refined elegance, supported by a creative cocktail menu and elevated food influenced by the diverse cultures of Arabia.
Inspired by the opulence and charm of the Arab world, every detail at Alto is rooted in sophistication and a rich sense of tradition. The interiors of the venue reflect a revival of a golden age glamour with a contemporary, high-end flair. Using a charming blend of materials, including bronze and wood, and rich colours, such as burgundy and dark green, the décor is characterised with a relaxing, continuous theme of curved aesthetics, drawing guests in and creating a rejuvenating sense of poetic influence. This is supplemented with mesmerising geometric and arabesque designs that are based on the beautiful shapes in Arabian architecture, giving the venue a blend of contemporary and traditional symmetry.
Boasting sweeping, panoramic views of the city, Alto is be the ultimate cosmopolitan escape destination, where guests can unwind after a long day and enjoy the company of a sophisticated clientele. Overlooking the cityscape, the lounge is the ideal choice to cater to a variety of guests, whether their aim is to socialise after work, enjoy a memorable date with their partner or to spend a late night in the newest place to see and be seen in the Kingdom. To set the mood, our in-house DJ plays carefully curated music from around the globe, as well as periodical live performances from some of the region's top-rated bands.
Alto is open from noon until the early hours, making it the ultimate destination for early sundowners, late night tipples in the open air or enjoying both business and private affairs during the day.
Menu
At Alto, you will savour every experience. Set off on anArabian culinary journey with our contemporary take on regional cuisine. Our experienced chefs have developed a modern Arabic motif, transforming traditional favourites using novel ingredients and inspired twists.
The love of sharing and communal experiences that permeate in the region is reflected in our menu, with our variety of delicious and unique mezze created to be perfectly enjoyed together. From the sensual sweetness of Saudi dates, to the vibrant colours of Moroccan spices, the enchanting aromas of Lebanese herbs, the richness ofPalestinian olives, and the freshness of Bahraini tomatoes, our menu was inspired by the most exquisite flavours and varieties across the Arab world.
When creating our specialities, our chefs scoured the uniqueness of each of the Middle East's diverse cuisines, combining local, regional and wider flavours in surprising and delightful ways. Our delicious mains include creations such as our spicy grilled lamb cutlet with minted labneh and pickled vegetables and our pistachio kebab with char-grilled tomato salsa. Furthermore, our menu respects the diverse needs of our customers, with delectable vegan, vegetarian and gluten-free options available.
Our extensive beverages menu features a selection of exquisite craft cocktails, meticulously prepared by our experienced and creative mixologists, as well as traditional, Middle Eastern and premium drinks, from exclusive wines to authentic Levantine arak. Alternatively, guests can enjoy freshly squeezed juices, JING tea or addictively fragrant coffee.
Discover great heights at Alto
Alto is located on the 25th floor of Downtown Rotana in Bahrain's capital Manama and is open seven days a week from noon to 2am. The venue seats 150, with 80 of those seats outdoors in the terrace that boasts an awe-inspiring view of the capital. Guests can enjoy our stunning terrace, as well as a dedicated valet team to take care of their car parking needs. The venue's dress code is smart causal...