The Greatest "Superheroes" Halloween Party
For 10.00 BD Instead of 15.00 BD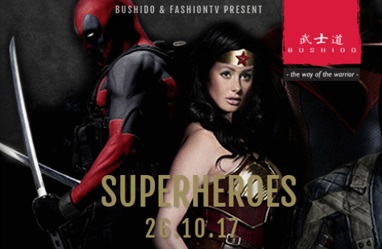 DEAL ORIGINAL PRICE
15.00 BD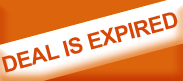 Description
The Greatest Superheroes @bushido973

An extravagant Halloween bash to be held in Bushido Bahrain in collaboration with Fashion TV Paris, the FTV Supermodels, international DJ Pantelis from Greece, ANIAJ J ( the FTV & D&G singer), tv studio & costumes room.

Guests are requested to join the event dressed in their best superhero costume.

« In major capitals as New-York or Paris Halloween celebrations are often linked with the Fashion industry, you can note the Annual Halloween Party organised by Heidi Klum in New-York welcoming an incredible list of celebrities & supermodels dressed up like their superhero, It is also a great opportunity for Bahrain to discover the true FTV lifestyle experience, such as that enjoyed in numerous capital cities worldwide as during Cannes Film Festival'.» said Romain G. Saint Gilles, FTV International's Vice President for Gulf.

This is the idea of the concept hosted by FTV, sharing an audience dressed as Superhero with A list of artists, entertainers, and Supermodels from the best model agencies in Europe. International models, entertainers for which FTV is renowned, the events promise to raise the benchmark of glamorous entertainment in the region.

Guests are invited to move through to the main floor, where from 11pm DJ star PANTELIS, Alber Mauri & FTV voice Ania J DJ will keep the party going until well into the early hours. Don't miss also the costume room where you will have the ability to get free Halloween make-up session & mask also with FashionTV goodies.

-----------------------------------------------------------
ENTRY
When: Thurday 26.10.17
Time: 9.30 pm until late
Featuring Dj Pantelis & Supported by DJ Albert Mauri
Entry:
Ladies: Free entry from 9.30-10pm, BD5 thereafter
Gents: BD10 Advance / BD15 On the Door

-------------------------------------------------------------
ENTERTAINMENT

DJ Pantelis

Playing both EDM and Tribal/ Tech House, his tour of duty (outlined below) has taken him all over the world to over 200 different destinations.
DJ Pantelis has created the biggest and most
loyal patron following ever noted within the Greek music
scene and is one of Europe's top international DJ's.
Dj Pantelis began producing music from the age of 16.He has started creating some home made remixes with an analog Fostex R8 Multichannel tape recorder and a sample player keyboard from Casio.In 1989 he has started building his studio based on an Atari St 1040 running the first version of Cubase for Atari format.Later he started working with a variety Roland analog synths like the legentary Roland W-30,Juno 106,Roland S750,TB 303 and JV1080.In 1995 he has started producing into PC platform running a Cubase version. Today he is working on a modern digital / analog studio with the best soft and analog gear of the market.He is one of the most succesfull Greek producers in Europe with alot of projects from various genres of dance music.

----------------------------------------------------------
ALBERT MAURI

Creative and enthusiastic with years of experience in the international club scene, Alberto was born & raised in the paradisiac island of Mauritius. The Mauritian 2007 finalist of the infamous DMC Dj Championship was spotted during one of his trips by Buddha-bar Paris' resident dj, DJ RAVIN, Alberto is also well known for adding a sensual yet ethnic vibe to his energetic tunes.
Having performed for Bushido's biggest events alongside famous djs such as Lost Frequencies, Dj Pantelis, Bob Sinclar among others and with over 10 years' experience Djing for international clubs and radio across Mauritius, Paris, Dubai and Doha the lively vibes of Bushido's resident Dj get the body moving every time.

About FashionTV:
FashionTV broadcasts in 200 countries to over 500 million households and 7 million public locations across the 5 continents; it is the only 24-hour fashion, beauty & lifestyle television station worldwide. Based in Paris, France since 1997, Fashion TV is streamed through 30 satellites and thousands of cable operators and its content focuses on fashion shows, backstage access, photographers, models and celebrities.

FashionTV content is distributed in SD, and high definition worldwide via 65 satellites, reaching more than 500 million homes. Over YouTube, FashionTV reaches 400 million homes, and more than 14 million video views were achieved from all over the world.

Alongside its famous parties held worldwide, FashionTV has successfully launched a series of merchandising lines, which include f. energy drinks, f. perfumes, f. bars, and f. clubs. Over 30 f. café & lounge locations now exist across cities including Tokyo and Johannesburg, while 7 f.stores exist across Thailand. Plans for f.hotels are currently underway. In 2010, Fashion TV holding Ltd undertook a successful listing on the Frankfurt stock exchange

-------------------------------------------------------
TERMS & CONDITIONS

-Guests must be aged 21+ and prove if requested with national ID. For everyone's enjoyment,Bushido Lounge kindly asks all guests to please drink responsibly.

-Bushido accept no responsibility for the appearance or reproduction of your image in any promotional material including video or photographic imagery for which you are solely liable. Entrance is upon management discretion.
Conditions
Coupon validity start date : 2017-10-26
Coupon validity expiration date : 2017-10-26
Entrants: 21+

Tickets are non-refundable and non-upgradeable

No drink included with this ticket

Ladies: Free entry from 9:30 pm -10:00 pm, BD 5 thereafter

Tickets counter will be closed at 11pm
No Entry after 11pm.
(Entrance is upon management discretion.)

Questions? Contact us at 34481868 or by e-mail: contact@togetherinbahrain.com
How it works?
Click on "BUY" and follow the instructions
You can pay online by credit card or debit card or cash on delivery. Allow 2 working days to come and collect the cash from you.
You will receive your coupons by sms and email (check your spam folder please)
Watch the steps in
* Multiple Ticket holder should come in person with ID to gain entrance or enter list of invitees names when ordering the coupons online.
About the deal and the company
The Company
Multi award-winning hospitality, including acclaim to:
-Traveler's Choice Award: Top 10 Restaurant in the Middle East, Tripadvisor
-Best Restaurant in the Middle East 1st Runner Up, Caterer Middle East
-Favourite Restaurant in Bahrain, Fact Citibank Dining Awards
-Favourite Japanese Restaurant in Bahrain (4 consecutive years), Fact Citibank Dining Awards
-Best Japanese Restaurant in Bahrain, Time Out Dining Awards
Bushido Restaurant & Lounge, Bahrain is part of the global Buddha Bar network belonging to George V Eatertainment. The Buddha Bar concept was established 15 years ago in Paris celebrating the 'Art of Living',
with confluent influences from the Pacific Rim .
Bushido itself is a stand-alone concept uniquely developed for Bahrain, fusing chic 21st century design with the traditional chivalrous values of ancient Japan. The opulently decorated restaurant and serene outdoor terrace offers fine-dining Japanese fusion cuisine. Meanwhile, the upstairs lounge provides the ideal environment to relax and enjoy some of the best nightlife events that Bahrain has to offer.
About
Bushido
To the right of Ritz Carlton Hotel, Building Nr 52, Road 38, Block 428, Seef Area
17583555 Manama
BAHRAIN
http://www.bushido.com.bh/