GR fantasy fest
For 12.00 BD Instead of 15.00 BD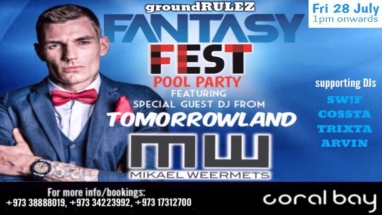 DEAL ORIGINAL PRICE
15.00 BD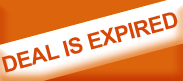 Description
We promised to bring you something unique and massive.. well here it is.. groundRULEZ brings to you a new brand "FANTASY FEST", where we intend to make all your fantasies become real as we will be bringing you with different artist from around the world...

Summer is here, and it's time to have a pool party like never before..

We bring to you a special guest DJ all the way from TOMORROWLAND .. "MIKAEL WEERMETS" .. who is known to be one of TOMORROWLAND's and IBIZA's unique DJs & Producers.. he will be delivering music on whole new different level, so come and experience TOMORROWLAND at your own backyard as it will be a day to remember..

And ofcourse, we've got some of your favorite local DJs that will be starting off the day, we got:
SW!F
COSSTA
TRIXTA
ARVIN

They will be playing all your favorite tunes while you enjoy the summer breeze at the pool with your favorite beverages.

CORAL BAY is the place to be on Friday 28th July ... from 1pm onwards ...
Conditions
Coupon validity start date : 2017-07-28
Coupon validity expiration date : 2017-07-28
Timing: Friday, 28th July 2017, 1pm Doors Open

Entrants: 18+

Entrance upon management discretion

Questions? Contact us at 34481868 or by e-mail: contact@togetherinbahrain.com
How it works?
Click on "I BUY" and follow the instructions
You can pay:

Online by credit card / debit card
Come and visit us at our offices in Juffair (Office 1716, Business Bay, next to Juffair petrol station) during our opening hours every day from 9am to 5pm. Closed on public holidays
Ask us to come and collect the cash. Our delivery agent will come within 2 days (option is not valid when coupons expiry date is lower than 2 days)

You will receive your coupon by sms and email (check your spam folder please)
Show the coupon at door and enjoy the party !!!
OR
Watch the steps in
About the deal and the company
The Company
Situated on the clear waters of the Arabian Sea, Coral Bay is the ultimate destination for relaxation, adventure, entertainment, and absolute enjoyment. Formely known as Coral Beach Club, Coral Bay is a marina, a beach, a fully equipped health club, a relaxing lounge, the home of the island's most acclaimed Lebanese restaurant, the host of Bahrain's legendary Formula 1 parties, and much more. Coral Bay truly has something special for everyone.
About
Coral Bay
Al Fateh Highway P.O Box 11895
Manama
BAHRAIN
www.coral-bay.net