Rufa Mae Quinto Live in Bahrain at Arch Hotel Juffair
For 6.50 BD Instead of 8.00 BD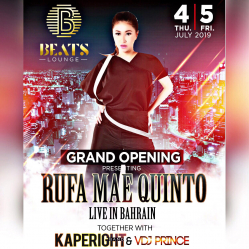 DEAL ORIGINAL PRICE
8.00 BD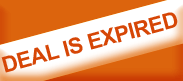 Description
A Night Of Music & Laughter with Rufa Mae Quinto Live in Bahrain!
Entrance ticket + 1 selected beverage
On The 4th & 5th of July 2019
The BEATS LOUNGE Bahrain Will Officially Have Its GRAND OPENING CEREMONY

Another Event That Will Surely Reveberates A Total Entertainment Package

Celebrity – Live performance by Rufa Mae Quinto
She is a Filipino actress, comedian, television host and occasional singer. Quinto started her showbiz career after landing a spot in That's Entertainment (1996). Her biggest break was Gloria, Gloria Labandera (1997). Quinto is widely known for playing the character 'Booba' and 'Boobita Rose' in both hit movies, a role for which Quinto inspired an international catchphrase in the Philippine vernacular to refer to a lack of English fluency as having a "nose bleed". Quinto has won four PMPC Star Awards and has starred in top grossing films such as Apat-Dapat Dapat-Apat, Pasukob,Desperadas, Manay Po 2, I.T.A.L.Y. and Desperadas 2. Quinto is known for her funny expressions such as "OK, fine", "todo na 'to!", "pasensiya na", "para sa bayan", "move on", "GO GO GO!" and "to the highest level.

Together With The KAPERIGHT Band & VDJ Prince
Conditions
Coupon validity start date : 2019-07-04
Coupon validity expiration date : 2019-07-05
When: Thursday & Friday 4th & 5th July 2019
Door opens at 6pm
Entrants: 21+
(To be proved, if requested with national ID or passport)

Tickets are non-refundable and non-upgradeable

Dress code: Smart Casual (No sandals or slippers)

Entrance includes 1 selected beverage

Questions? Contact us at 34481868 or by e-mail: contact@togetherinbahrain.com
How it works?
Click on "BUY" and follow the instructions
You can pay online by credit card or debit card or cash on delivery. Allow 1-2 working days to come and collect the cash from you.
You will receive your coupons by sms and email (check your spam folder please)
Watch the steps in
About the deal and the company
The Company
With stylish exteriors and matching modern interiors, The Arch Hotel is an iconic hotel extending the best of hospitality to all patrons from all over the world. Conveniently located near both financial and diplomatic areas of the city, this modern hotel is designed with an eye for detail and equipped with deluxe amenities for your ultimate comfort and convenience.
This luxury hotel is ideal for long-term stays, business trips, and holidays, and is located only 15 minutes from the Bahrain International Airport, 30 minutes from the Bahrain International Circuit and is just minutes away from the major family tourist destinations and shopping centres.