Online IELTS Preparatory Tests Under Simulated Exam Conditions
For 7.00 BD Instead of 15.00 BD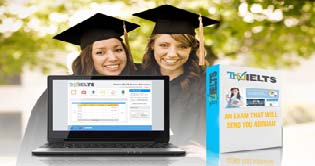 Description
Online MockUp Tests for Academic or General IELTS Tests
Choose between General or Academic exam.

Covers reading, writing, listening, and speaking through interactive conditions.

Includes score, review for all modules covered in the test

Writing and speaking tests marked and reviewed by experienced IELTS test examiners, with results accessible for 1 year.

Customers get 1 free mockup test with every purchase.
How to Redeem?
Buy the coupon from www.togetherinbahrain.com
Logging on to: www.tryielts.com

Sign up and log into your profile.

Go to upper part of the page and click on Redeem Voucher.

Fill in the following details:

General or academic exam (choose 1)

Voucher issuer (choose Together Bahrain)

Country of issuer (choose Bahrain)

Voucher code

Security code (if company issue security code, if not the security code is same as voucher code)

You will be able to start approximately 1 working day after activation date.
Click here to watch video on how to redeem.
Language is an art that inspires one to compose song lyrics, meaningful poems, and romantic secondhand confessions. Choose from:
1 online mockup test for BHD 7 instead of BHD 15

2 online mockup tests for BHD 11 instead of BHD 26.15

4 online mockup tests for BHD 18 instead of BHD 49.30
How IELTS Can Help You
Suitable for fresh candidates, repeat candidates seeking to improve band scores, or those who want to experience simulated conditions before the real exam.

An IELTS exam assesses one's level of proficiency in the English language and is often a requirement for those seeking to pursue their higher education overseas.

IELTS is recognized as a language standard prior to placement or employment in over 6,000 organizations such as universities and industry boards globally.

It pays close attention to one's skills in reading, writing, listening, and speaking, helping one to improve in his or her orthography, style, pronunciation, and pickup lines.
Internet access and audio required. IELTS examination not included. Participants are required to make their own arrangements if they would like to sit for the exam.
Conditions
Coupon validity start date : 2019-11-01
Coupon validity expiration date : 2019-11-30
Exclusive offer only on www.togetherinbahrain.com
How it works?

Click on "I BUY"

You can pay:

Online by credit card / debit card

Ask us to come and collect the cash. Our delivery agent will come within 2 days (option is not valid when coupons expiry date is lower than 2 days)

OR come and visit us at our offices in Juffair (Office 1716, Business Bay, next to Juffair petrol station) during our opening hours from 8.30am to 5.30pm every day (except Friday)

You will receive your coupon by email and sms

Visit www.tryielts.com, and

follow the instructions in the description of the deal

and enjoy the course !!!

Watch the steps in
Questions? Contact us at 34481868 or by e-mail: contact@togetherinbahrain.com
About the deal and the company
The Company
Mission
Our mission is to push the boundaries of e-learning and improve the life of our clients by removing the barriers to education. We'd like nothing better than to hear about our students being promoted, or more successful after taking one of our courses, we're sure they're that good!
Description
"TeacherBird.Com" is an e-learning Web Portal, which provides high-quality Video Training Lessons for People all around the world to improve their Software skills