Increase The Reading Speed With The Speedread123 Course
For 6.00 BD Instead of 50.00 BD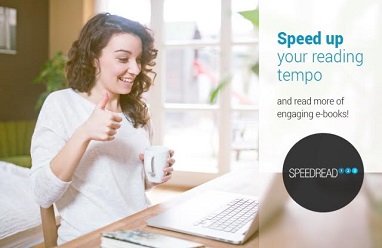 Description
Speedread123
The fastest reader in the world reads at a rate of 46,482 words per minute. In comparison, an average person reads at a speed of 150-200 words per minute. Through systematic training sessions, everyone is able to increase the pace of reading four or five times! How fast can you read?
Speedread123 is an interactive e-course rich in multimedia which develop the skill of speed reading. Thanks to numerous exercises with gamification elements, you will expand the visual field and improve your photographic memory.
Contrary to the popular belief, the faster you read, the more you understand. Strange? Not at all! Faster reading speed increases concentration, so that you focus only on the text and its meaning. The eye looks, but the brain reads. Speeding up the visual memorization of information allows to increase the number of read books and articles a few times, so that you will have better orientation in the surrounding reality, and, above all, you will save time.
To make learning pleasant, we offer you a ready, professional e-learning tool Speedread123 thanks to which you will:
find out what exactly reading and anticipation is,
learn the reading tactics which make choosing a book and quickly finding vital information easier,
take part in reading trainings, individually regulating the speed of text scrolling,
start to read whole groups of words, thanks to Schultz tables,
learn to quickly recognize and memorize words,
participate in a 3-part warm-up before each exercise,
receive a summary in the form of a mind map after every finished chapter,
verify the gained knowledge in a test - photo lesson,
at the end of the course you will be awarded with a certificate.
Don't worry! Our mind is brilliant. You will quickly master new material and discover the secrets of speed reading.
The Speedread123 course is divided into 10 parts and each consists of 10 lessons. To simplify learning they all have been organized in the following order: lecture in the form of a video, educational game, a warm-up, exercises to practice anticipation, visual field and memory, reading training, a summary and a photo lesson.
Monitor your progress and noticeably increase the reading speed with the Speedread123 course!
HOW IT WORKS
Buy the Coupon from www.togetherinbahrain.com
Email

kupon@fun-media.com

with the title ' Increase The Reading Speed With The Speedread123 Course ' Provide the following information: Name, Contact details,Emailaddress Course option, voucher code, Attach your voucher You will receive a confirmation email with one login activation code per person within 48 hrs.
Visit

speedread123.com

Click on the "Activation".
Fill in the following details
Enquiries:

kontakt@fun-media.com
The deal
6 months
Access to Online course for 6(BHD) instead of 50 (BHD)
12 months
Access to Online course for 9(BHD) instead of 99(BHD)
Conditions
Coupon validity start date : 2021-03-01
Coupon validity expiration date : 2021-06-30
Exclusive offer only on www.togetherinbahrain.com
How it works?

Click on "I BUY"
You can pay:

Online by credit card / debit card
Ask us to come and collect the cash. Allow 2 working daysto come and collect the cash from you. Our delivery agent will come within 2 days
OR Come and visit us at our offices in Juffair (Office 1716, Business Bay, next to Juffair petrol station) during our opening hours from 8.30am to 11pm every day
You will receive your coupon by email and sms
Watch the steps in
Questions? Contact us at 34481868/13104547 or by e-mail: contact@togetherinbahrain.com
Enquiries:

kontakt@fun-media.com
About the deal and the company
The Company
We're Funmedia, company based in Poland, and we are leaders of e-learning. We have created different language and specialised online courses, We are present on market in over 40 countries, providing online courses to over 600 000 users all around the world, including most of the countries in Europe, USA, South America and Asia. Our online courses are complex, include photos, videos, interactive games and voice exercises. Our products contain language courses like: english, german, italian, spanish and french courses, buissness english course, fast typing course, fast reading course, and many more. It would be a pleasure to start cooperation with you to provide our e-learning experience to your customers. We already cooperate with 172 different partners in 43 countries. Today,many of us realise that learning new languages is not only necessary, but also big fun and it gave many opportunities in life, not only at work or school. That's why we would like to offer your customers possibility to have fun while learning with Funmedia online courses. It may be great present for many of your customers!