Germany Make-up
For 0.60 BD Instead of 2.00 BD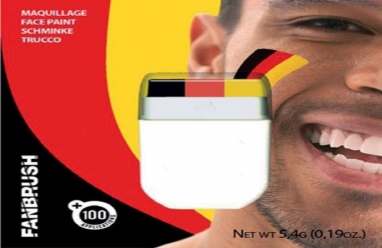 Description
This makeup stick contains 2 colors: black, red, yellow.
Very convenient and easy to use and is perfect to support your favorite team at a sporting event or a themed party.
Conditions
Coupon validity start date : 2020-03-01
Coupon validity expiration date : 2020-10-30
Stock available in Bahrain
Cash on Delivery option is not available for deliveries outside Bahrain
How it works

Click on "I BUY"
You can pay:

Online by credit card / debit card
Or ask us to come and collect the cash and deliver

Please note that 2 BD delivery charge is applied

Questions? Contact us by phone at 34481868 or by email at: contact@togetherinbahrain.com
About the deal and the company
The Company
TOGETHER is a company based in Bahrain, registered at the Ministry of Industry and Commerce, offering 2 types of services:
Exclusive deals online at discounted price on restaurants, spa, beauty salons, travels, etc...

A unique Loyalty Program which gives access to discounts of up to 30% on more than 150 outlets for 1 year !
You can contact us at 00 973 344 81 868 or contact@togetherinbahrain.com
About
TOGETHER IN BAHRAIN
Office 1716, Business Bay Building (next to Juffair Petrol Station), Juffair, Bahrain
Manama
BAHRAIN
www.togetherinbahrain.com