Accredited Beginner and Advanced Microsoft Excel course with International Certificate
For 8.40 BD Instead of 133.00 BD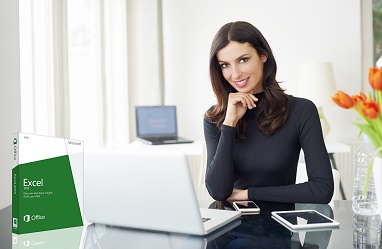 Description
- 323 video lessons with practical exercises covering almost all aspects of Microsoft Excel skills such as for example: Backstage Management, Document Appearance, Fundamental Basics, Inserting Objects, Learning Excel Options, Managing Your Data, Reviewing Your Data, Setting Workbook Views, Excel Developing & Macros, Building and Using Excel Formulas and many more.

- appropriate for all Microsoft Excel users from total beginners to professional accountants

- instructional materials created by professional, licensed accountants, graduates of Stanford University (one of the 5 best universities in the world)

- the course is built on a Proprietary Learning Management System (LMS) which uses advanced neuro-scientific teaching methodologies. THIS VERY METHOD is used by EVERY MEDICAL school worldwide: Watch One, Do One, Teach One through real-world practice and Immersion.

- Completely Mobile Compatible for your iPad or any Mobile Phone
- Real-world, corporate examples (not just theory) of how to use Microsoft Excel functions. The London Business Institute doesn't focus on Theory - because Theory typically fails when it meets reality.

- Certificate of Proficiency from the London Business Institute upon completion of the course recognized by many international corporations including IBM, Nestle, Philips, Chase Bank, Volkswagen, BNP Paribas, Deutsche Bank, Barclays, ING, Coca-Cola, DHL, Procter & Gamble, Samsung and many others.
- students are free to chose one of 3 language interfaces: English, German or Spanish
Course for:
6 months - BD 8.4 instead of BD 133
12 months - BD 12.9 instead of BD 221
18 months - BD 17.3 instead of BD 310
36 months - BD 21.7 instead of BD 1299
60 months - BD 26.2 instead of BD 1999
Conditions
Coupon validity start date : 2019-11-01
Coupon validity expiration date : 2019-11-30
The course is personal and non-transferable and can only be used once. But you can buy many as gifts.
To confirm registration fill out our online form:
Click here

How it works:
1) After purchasing the coupon, Please allow the barcode to activate in their website (it may take 2 to 3 days)
2) Click on the link above for registration
3) Enter the barcode received on coupon to activate your course
4) Start with course
Questions? Contact us at 34481868 or by e-mail: contact@togetherinbahrain.com
About the deal and the company
The Company
Unlike traditional Business Schools offering you Advanced Degrees in Business or an MBA, The London Business Institute focuses on providing you with realworld, practical, education and training that you can put to use immediately. The London Business Institute (LBI) doesn't focus on Theory - because Theory typically fails when it meets reality.