Event Photography Online Course
For 6.00 BD Instead of 42.00 BD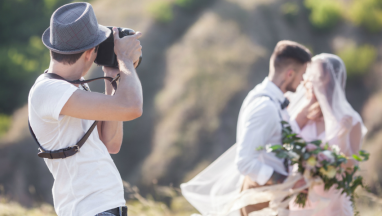 Description
ABOUT THIS COURSE
Unleash your creative expression as you learn how to design and style the best events that will deliver a 'WOW' experience to your clients
Imagine getting paid to attend events and parties with your camera in hand – well you can when you're a special events photographer! Fund your passion and earn extra income doing something you love while creating lasting memories for your clients.Did you know that freelance event photographers can expect to earn anywhere from $100 to $5,000 per shoot? The market demand for event photographers keeps growing, and people are eager to stage professional shoots for weddings, engagement parties, bridal/baby showers, birthday parties, and holiday celebrations. Wedding photography, in particular, can be very lucrative, but you'll need to stand out and market yourself to attract potential clients. When it comes to photographing an event, all you need is a camera, a lens, and a willingness to try - we'll teach you the rest.
So how do you become an event photographer?
This course gives you the opportunity to try out event photography and see if it's right for you. We cover how to obtain your first client, how to prepare for an event, what to expect the day of, and the post-event tasks you'll undertake. Upon completion of this course, you'll have all the tools you need to become a successful event photographer, so get snapping!
WHAT YOU'LL LEARN
This course contains all of the event photography tips, tricks, techniques, and strategies you need to know to transition into a successful freelance career. Students will:
Learn the ins and outs of event photography and how to stand out from the crowd
Get to know equipment basics in plain English – no complicated tech-talk here
Have the tools necessary to go out and shoot their first event
More details and Course Breakdown HERE
Conditions
Coupon validity start date : 2019-11-01
Coupon validity expiration date : 2019-11-30
No refunds or cancellation once log in details have been provided.
Non-transferable
Internet connection required.
How it works?

Click on "I BUY"
You can pay:

Online by credit card / debit card
Or ask us to come and collect the cash. Allow 2 working days to come and collect the cash from you.
OR come and visit us at our offices in Juffair (Office 1716, Business Bay, next to Juffair petrol station) during our opening hours from 8.30am to 8.30pm every day (except Sunday

You will receive your coupon by email and sms
Allow 48 hours for your code activation
Login on the Website

HERE

, enter the voucher code, follow the instructions and enjoy your course !!!
OR
Watch the steps in

Questions? Contact us at 34481868 or by e-mail: contact@togetherinbahrain.com
About the deal and the company
The Company
All IOA courses are created by an international team of professional online educators with years of experience across a variety of industries. You can benefit from a wealth of hands-on knowledge and get the inside track on working within the industries that interest you most.
Our courses are created just for you. All study is completed online. You can learn anywhere, anytime, anyplace. Get comfortable and let us guide you on your way to becoming a professional in your chosen industry.
The courses are structured into clearly defined topics, containing detailed written lessons, graphical representations as well as a wealth of instructional videos.
Transform your career today with our accredited online courses.
Ready to Master your SKILLS?