Loretta Bates Zumba Masterclass
For 15.00 BD Instead of 20.00 BD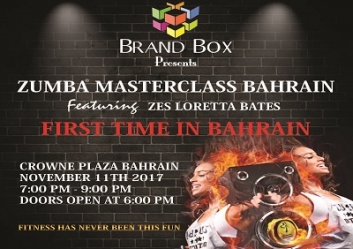 DEAL ORIGINAL PRICE
20.00 BD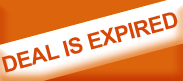 Description
Exhilarate yourself bring your girls out to enjoy a Party like no another for the First Time in BAHRAIN Zumba Education Specialist Loretta Bates from the USA world renowned and tours world wide spreading Zumba love in a fun and inspirational way and she have worked closely with the creator of Zumba Beto Perez and is now here!!! come let you hair down and Join the party!!!feel the music!!! and LET IT MOVE YOU !!!!!
OFFER for 5 DAYS only - BUY 1 GET 1 FREE
Conditions
Coupon validity start date : 2017-11-11
Coupon validity expiration date : 2017-11-11
Timing: Saturday, 11th Nov 2017, 7pm Doors Open

Entrance upon management discretion

Questions? Contact us at 34481868 or by e-mail: contact@togetherinbahrain.com
How it works?
Click on "I BUY" and follow the instructions
You can pay:

Online by credit card / debit card
Come and visit us at our offices in Juffair (Office 1716, Business Bay, next to Juffair petrol station) during our opening hours every day from 9am to 5pm. Closed on public holidays
Ask us to come and collect the cash. Our delivery agent will come within 2 days (option is not valid when coupons expiry date is lower than 2 days)

You will receive your coupon by sms and email (check your spam folder please)
Show the coupon at door and enjoy the party !!!
OR
Watch the steps in
About the deal and the company
The Company
Brandbox is a one stop event management and marketing company dedicated to meeting your needs.
Our past successful events in Bahrain were
Desert Temptation 1 with Ali Zafar,

Desert Temptation 2 with Sunidhi Chauhan & now

Desert Temptation 3 with Shankar, Ehsaan & Loy

Desert Temptation 4 with Mika Singh