TOGETHER DISCOUNT CARDS: enjoy up to 30% discounts in more than 200 outlets for 1 full year!!
For 19.00 BD Instead of 30.00 BD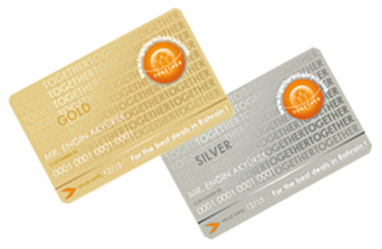 DEAL ORIGINAL PRICE
30.00 BD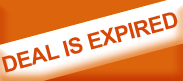 Description
If you want to enjoy up to 30% discount on more than 250 outlets, including 5 stars hotels and prestigious brands, every single day for 1 year, Together Gold Discount Card is for you !
Together Loyalty Card is unique:
Unique Benefits:

More than 200 participating outlets (

list of participating outlets

) and more coming every week ! We aim to achieve 300 outlets by end 2016
A unique Diversity of outlets available. Unlike other programs, you will not only enjoy discounts in restaurants and beauty salons, but also on diversified shopping outlets (furniture, electronics, fashion, optics...), services like medical, activities, children entertainments, sports, laundry, language classes, car services, hotels abroad...
Our merchants include the most prestigious outlets in Bahrain like 5 stars hotels, Bushido, etc...

Easy to use:

Just show your card and ID when you go to any of participating outlets...and Enjoy the discount immediately !
2 cards are available:
Silver Card: includes more than 200 participants (BD 19 per year)
Gold Card: includes all Silver participants + 5 star hotels (BD 39 per year)
You can check all the outlets and discounts on http://www.togetherinbahrain.com/outlets.php
Conditions
Coupon validity start date : 2016-05-01
Coupon validity expiration date : 2017-10-31
Exclusive and temporarly offer, only on www.togetherinbahrain.com
How it works?

Click on "BUY" and select which card you want
Pay by credit card, debit card or cash on delivery. Allow 2 working daysto come and collect the cash from you.
You will receive a form to complete with your details
Once we receive the completed form, we will print your card. It will be ready within 5 working days at our offices in Juffair.
If you prefer to get it delivered to your place, just select this option in the form, and it will be done (BD 1 extra charge applies)

Questions? Contact us at 34481868 or by e-mail: contact@togetherinbahrain.com
About the deal and the company
The Company
TOGETHER is a company based in Bahrain, registered at the Ministry of Industry and Commerce, offering 2 types of services:
Exclusive deals online at discounted price on restaurants, spa, beauty salons, travels, etc...

A unique Loyalty Program which gives access to discounts of up to 30% on more than 150 outlets for 1 year !
You can contact us at 00 973 344 81 868 or contact@togetherinbahrain.com
About
TOGETHER IN BAHRAIN
Office 1716, Business Bay Building (next to Juffair Petrol Station), Juffair, Bahrain
Manama
BAHRAIN
www.togetherinbahrain.com